Ensure the PEO you choose has a history of working with business owners like you. Check online reviews and speak with references before making a final decision.
PEOs can reduce the administrative burden of HR for a company. They can also provide access to more extensive benefits offerings than a small business could offer, including tax-advantaged health savings accounts.
What is a PEO?
The backbone of the PEO industry is a co-employment model that puts your employees on their books, which can help reduce costs and streamline processes for both businesses and their employees. Typically, PEOs offer better rates for workers' compensation and health insurance than small businesses can get on their own.
Now, what is a PEO? A PEO is a service that helps businesses manage many of their employer-related responsibilities and provides better employee benefits. Often, these services include payroll processing, government compliance, and risk management. These essential tasks can be challenging to handle with limited resources, especially as the trend toward remote work increases.
Another key benefit of working with a PEO is the ability to outsource HR functions. These include employment verification, drug testing, termination support, new hire training, employee manuals, and more. Check whether a PEO offers these services before signing up, and ensure they have modern and user-friendly software tools.
Most PEOs bundle their services into packages and charge either a percentage of payroll or a flat monthly fee per employee. Check for hidden costs, such as administrative fees and additional insurance requirements. Also, determine your contract's duration and the firm's cancellation policy. Some companies require a 30-day notice, while others charge a cancellation fee.
PEO Benefits
As a small business, managing payroll taxes and employment regulations across multiple states can take a lot of work. The last thing you want is costly fines or a reputation for non-compliance. A PEO can help you avoid these pitfalls and get you up to speed on the latest laws.
A good PEO will have a team of HR experts and established processes that can streamline global human resources management for your company. They can also help you access affordable, desirable employee benefits. For example, some offer health savings accounts, flexible spending arrangements, and 401(k) options for retirement planning.
PEOs can also help you reduce overhead by combining payroll, employee benefits, and HR compliance services into one easy-to-manage vendor relationship. This gives you the time and flexibility to focus on growing your company.
Some PEOs also specialize in particular industries and provide industry-specific customer support features. For instance, some offer tools for businesses in highly regulated industries like financial services and healthcare.
When evaluating different PEOs, finding one with a track record of integrity and reliability is essential. It's also important to read contracts carefully before signing any agreements. If possible, look for a severance clause that allows you to leave the contract early if your experience with the PEO is unsatisfactory. This can prevent you from regretting and lousy blood down the line.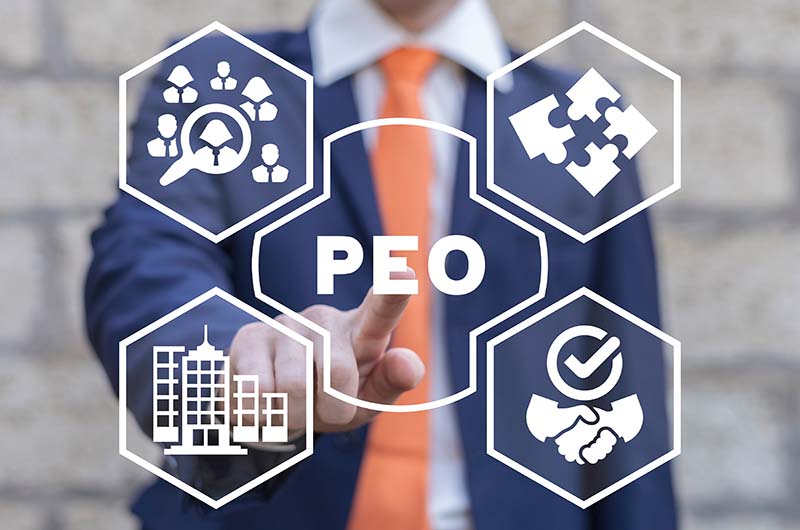 PEO Costs
The main cost associated with a PEO is your monthly fee to use their services. This fee will vary between providers, depending on your company size and the level of service you require. Many companies structure their fees as a percentage of payroll, while others offer flat rates per employee. The amount of time and money you save with a PEO will likely offset this initial expense.
PEO costs can also include indirect expenses related to implementing their system. This could include a training period for your employees and productivity lulls during this transition. In addition, you will likely incur additional cyber security costs to protect the sensitive data your PEO will have access to.
When evaluating the costs of a PEO, consider their experience and expertise in your industry. Some companies provide industry-specific services that can help you navigate complex compliance issues and unique workforce needs. For example, other offers comprehensive HR and workforce management tools for banking and financial services businesses.
You should also consider how much you value the relationships and trust you develop with a particular PEO. Look for a provider willing to work closely with you and your employees to ensure their services align with your business goals.
PEO Risk Management
A PEO is a valuable partner for small business owners. They provide valuable HR services to reduce risk and free up time for owners so they can focus on growing their company. However, it's essential to do your homework before choosing a PEO. Ensure they meet your needs and have a good track record of working with businesses like yours. Ask for client and professional references. Also, find out if they have a history of adherence to the industry's professional performance practices, including responsible financial management.
A good PEO can help you manage workers' compensation claims, which are often complex and expensive. They can help with insurance premiums, compliance, audits, certifications, and employee injury management. Additionally, they can offer better benefits for employees, such as access to Fortune 500-level health and retirement plans, tax-advantaged health savings accounts, and more.
All businesses face some risks. Whether someone injuring themselves on the job or an employee embezzling funds, these risks can be costly for your business. A good PEO will have a robust risk management team to minimize these risks and ensure you comply with all business laws.
A PEO can save your business money by offering payroll and HR services at a lower cost than you would pay alone. This is because they can purchase ample group coverage for your employees and reduce administrative costs by handling many of the routine tasks you wouldn't be able to do yourself.