Kurt Geiger launches one of the world's first designer bag & wallet collections made from recycled leather.
The collection includes the brand's best-selling iconic Kensington Bag. A major key part of Kurt Geiger's new sustainable collection, is incorporating:
Iconic Kensington bag
Wallets
Combat Boots
Laney trainers
Recycled nylon bags and trainers
This Winter, Kurt Geiger launched one of the first designer collections of bags and shoes made from recycled leather, which also included pieces made from recycled nylon.
Rebecca Farrar-Hockley, Creative Director of the brand says:
"We are delighted that we are now able to produce our iconic Kensington Bag in recycled leather. We believe this is a first for the fashion industry in luxury recycled leather and we know there is strong consumer demand for luxury items in sustainable leather.

"We have long worked on making the move to using high quality recycled materials. Consumers are much more conscious of where their purchases come from and how they are made. This move is the beginning of a new era for more sustainable manufacturing approaches and this collection highlights our continued efforts towards promoting a responsible business."
The new Kurt Geiger London recycled collection that includes a backpack, hobo, and lug soled combat boot also sees updates using recycled materials of some of the brand's best-selling styles such as the Laney sneaker and Kensington quilted bags.
Recycled Leather Kensington Bag – £219

Recycled Leather Mini Kensington Bag – £159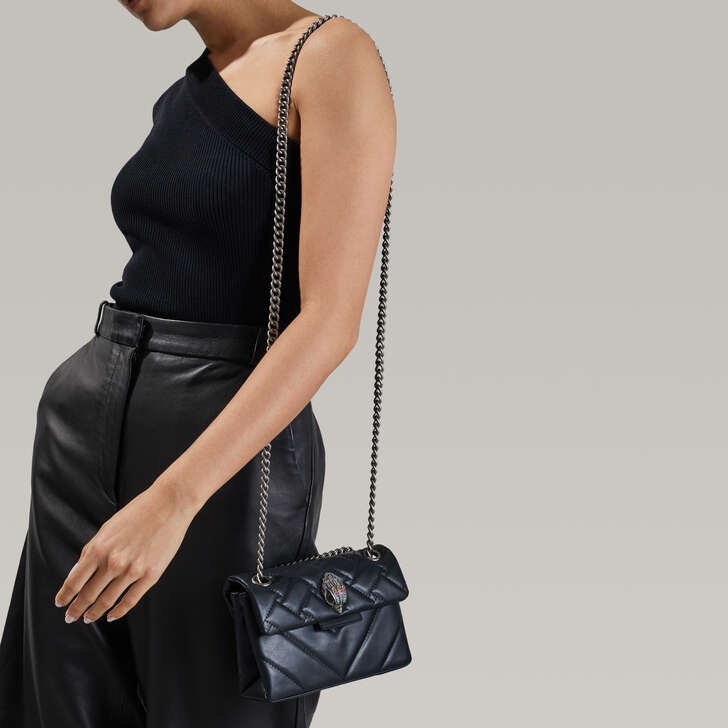 Materials used in this new collection include both recycled leather and nylon which both hold a number of significant environmental benefits:
'RECYCLED LEATHER' Recycled leather consists of discarded leather shavings and offcuts. These are broken down and combined with fabric fibres, resulting in an efficient re-use of materials and a significant reduction in water use during production. The amount of water used during the process saves 85% of the water used in leather production. The unique construction of recycled leather also shortens the degradation time of the product by 50%, resulting in a sustainable, lifelong product.
'RECYCLED NYLON' Billions of plastic bottles go into landfills every year. To create recycled fibres, discarded plastic bottles are collected, cleaned, ground down, heated and transformed into yarn, which is woven into recycled nylon textile. Compared to the creation of virgin fibres, the production of recycled materials emits fewer greenhouse gasses and conserves a considerable level of water and energy in the process. The nylon used for Kurt Geiger's recycled range is made from 100% recycled PET bottles.
The collection is now available at https://www.kurtgeiger.com/trends-edit/latest-trend with prices ranging from £69 – £219.