Westminster Abbey Shop has collaborated with London based designer Rory Hutton to create historically inspired scarves printed on the finest Italian silk. Hutton's works start as drawings, which are turned into lino-cuts and hand-printed before being digitally composed and coloured.
Each scarf is inspired by the history and architecture of Westminster Abbey.
Introducing the Blue Chapter Tiles Silk Scarf, £99. Elizabeth I Silk Scarf, £99. Pink Chapter Tiles Silk Scarf, £99. Green Architecture Silk Scarf, £99.
The Chapter Tiles Silk Scarf, available in pink or blue, is inspired by the medieval tiles that adorn the floor of The Chapter House at Westminster Abbey. Using thirteenth century designs of fleur de lys, Hutton has used bold cololurs to create his own modern interpretation. The tile designs are combined with other architectural details from the Abbey and together with his vibrant colour palette; they create a unique and beautiful response to Westminster Abbey's architecture.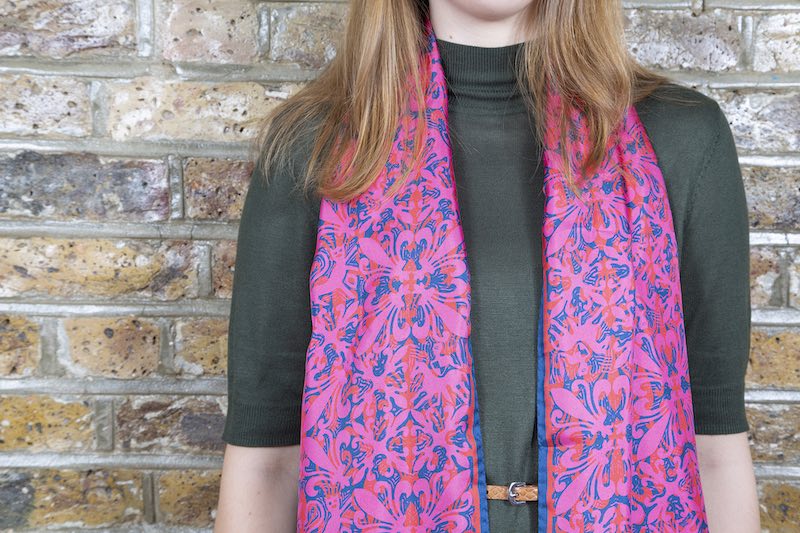 The exclusive Elizabeth I scarf is inspired by a portrait of Elizabeth that hangs in the Deanery of Westminster Abbey. Elizabeth holds a glove in one hand and a feather fan in the other, which can be seen in the center of the scarf. Tudor roses and fleur de lys that surround Elizabeth I's ornate tomb can also be seen in the design.