You've probably seen amazing images of gallery walls online and wished that you could get the look in your home. Good news: creating a beautiful look with wall art is simpler than you think! You don't need to be a pro interior designer to create a breathtaking gallery wall. Follow Desenio's step-by-step guide full of gallery wall ideas to get an insta-worthy look in your home.
CHOOSE ART PRINTS YOU LOVE
There's only one golden rule for creating a gallery wall: you've got to love the art prints you choose! Whether that means choosing posters in a wide range of bright colours, or going for a more neutral and low-key look, that's all down to you.
Tip: consider art styles
Try balancing different types of art prints: maybe you want to mix your favourite quotation prints with some photography prints, adding botanical prints, classic art, or graphical art prints too, depending on your tastes.
Tip: consider the colour scheme
Aim for two key colours as a theme for your gallery wall. When choosing these colours, it's good to consider the colour scheme of the room first. Select shades that harmonise with your wall colour, furniture, and accessories.
FRAME YOUR ART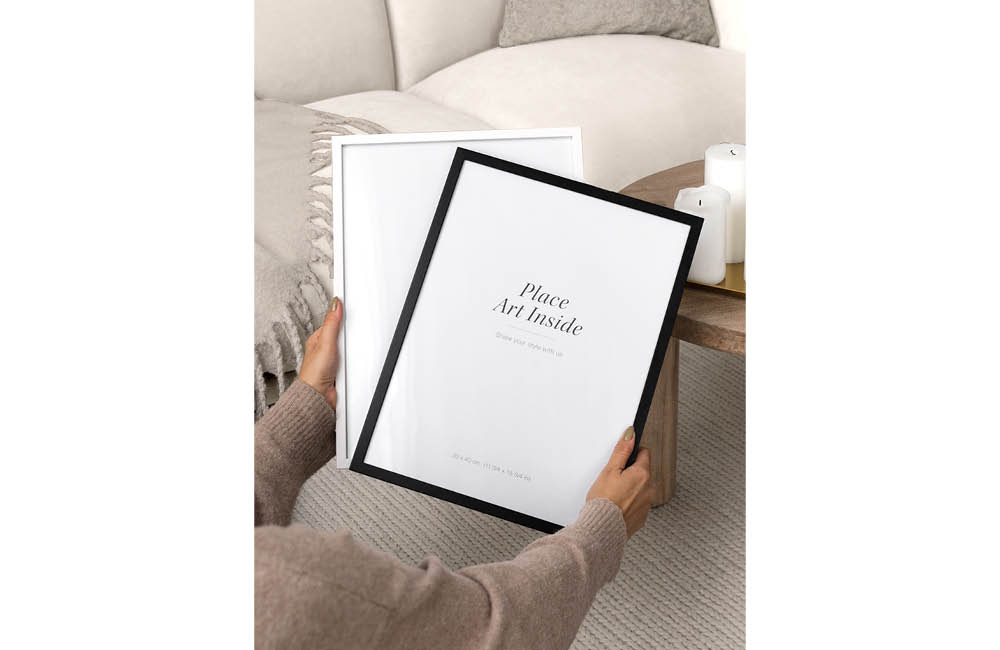 The type of frame you use can make a huge difference to the overall look of your gallery wall. A light frame will make the artwork pop, while black frames create contrast. Black frames are a classic choice for black & white photography prints.
Tip: keep frames the same
Usually, it's best to frame all of the prints on your gallery wall in the same style. But it's all your choice: if you're going for an eclectic look, you can do this by mixing frame styles.
PLAN THE LAYOUT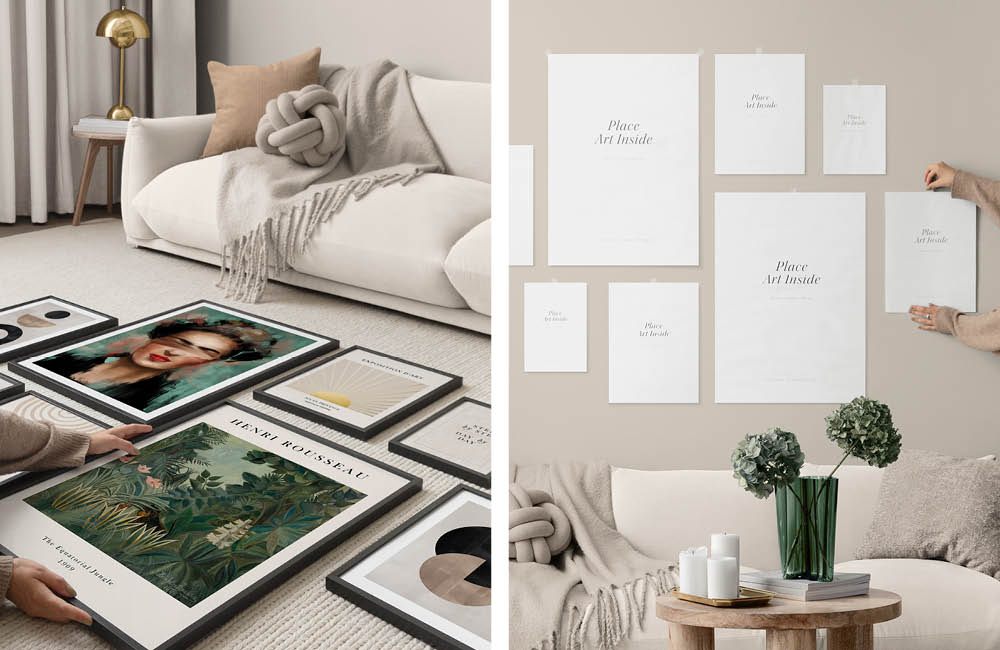 While your framed art is still on the floor, take a few minutes and experiment with the placing. Focus on balancing the colours and art styles so that all the prints feel evenly mixed. If you have an art print that will be the centrepiece of the gallery wall, start with this print and add prints around it.
Tip: use the paper in the frame to plan!
Ok, listen up, because this trick is guaranteed to solve all of your gallery wall dramas! Take the sheets of paper that come inside of your Desenio frames, and use these as a template for planning your layout. Arrange them on your wall using washi tape so that you can easily make adjustments and perfect the look.
Tip: consider the height of your gallery wall
A good rule is to place the centre of your gallery wall around 145cm (4ft 9inches) above the floor. If you're hanging above a bed or sofa, frames should hang at least 15cm (6 inches) above the furniture.
Tip: get the spacing right
Usually, we would recommend spacing the frame 5-10cm (2-4 inches) apart. Start with a 5cm (2 inch) spacing between frames and go from there to find the right feel for your room.
FIX YOUR ART IN PLACE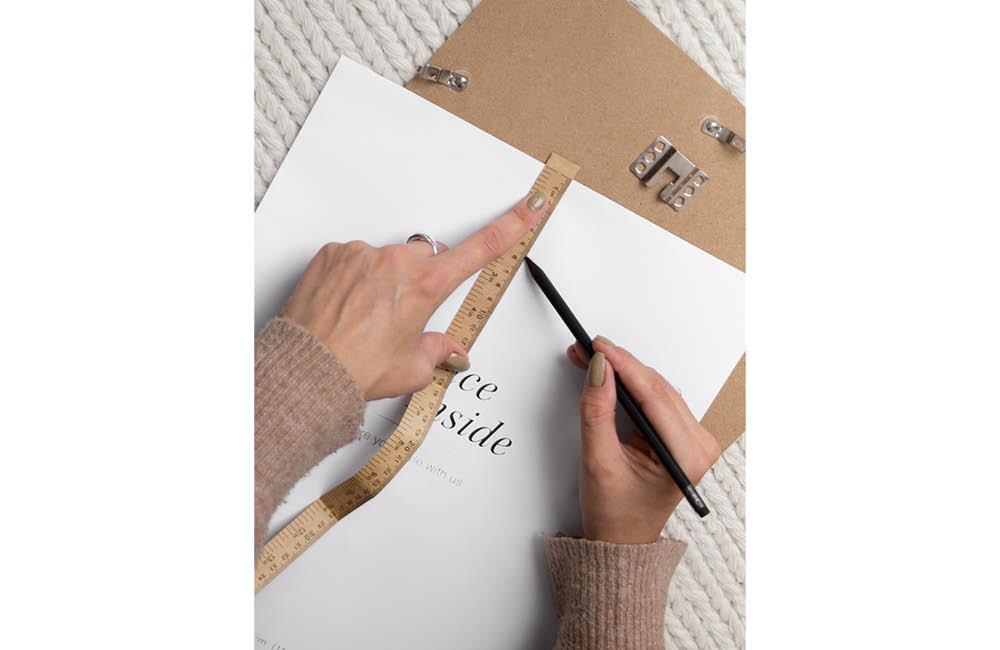 When you've perfected the composition of your artwork, it's time to get down to business. Use a measuring tape to find the centre of each sheet of paper on the wall and mark it with a pencil. Measure the distance between the top of the frame and where your picture hook needs to be fixed, and make another small mark. Fix the picture hook using a hammer and nail.
Tip: straighten it out
Don't sabotage the final look of your art by hanging frames unevenly! Once you've fixed the frame to the wall, use a spirit level to make sure that the frame is perfectly straight.
Tip: no nails? No problem!
If you're living in rental accommodation, putting nails in the walls could land you in trouble. But that shouldn't stop you from creating your dream gallery wall! Instead, use framing stickers that easily peel away when you're done with them.
TAKE A STEP BACK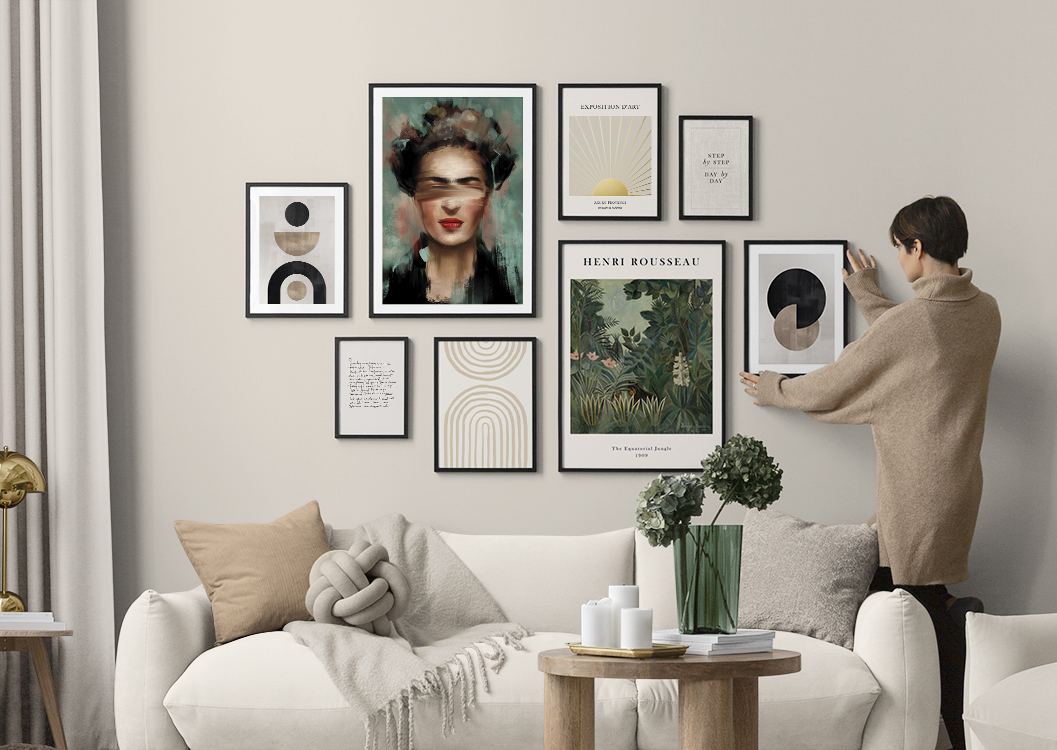 You've done it – take a step back and admire your creation! Share your look on social media (and use #Desenio for the chance to get featured on our Instagram) or invite friends over to show off the result! Beware though – everyone you know will be asking for help to create their own gallery wall look!