Catham.City is making its debut into the global market on Kickstarter on April 20 with its signature product – The Loveseat. The LOVESEAT is an exercise wheel for cats combined with the comfort of your favorite armchair. Placed in the center of the living room, it transforms the space into an fun and functional place to spend time together.
This is what we call: Furniture for Cat Lovers.
"Everything we buy for our cats seems to end up in a forgotten corner. However, the reason we have a pet is because we like to spend time together" said Stephan Verkaik, Founder and self-proclaimed Mayor of Catham.City. "Our goal is to ensure that we and our cats can share the best places in the house."
The LOVESEAT is revolutionary within the cat furniture segment, giving the owner the opportunity to comfortably relax, while the cat actively play right beside them. This is especially important, as research indicates a growing problem of obesity among cats. The LOVESEAT addresses this issue head-on. With two wheel sizes to choose from, accommodating pets up to 25lbs, your cat can play to its heart's content with you by its side.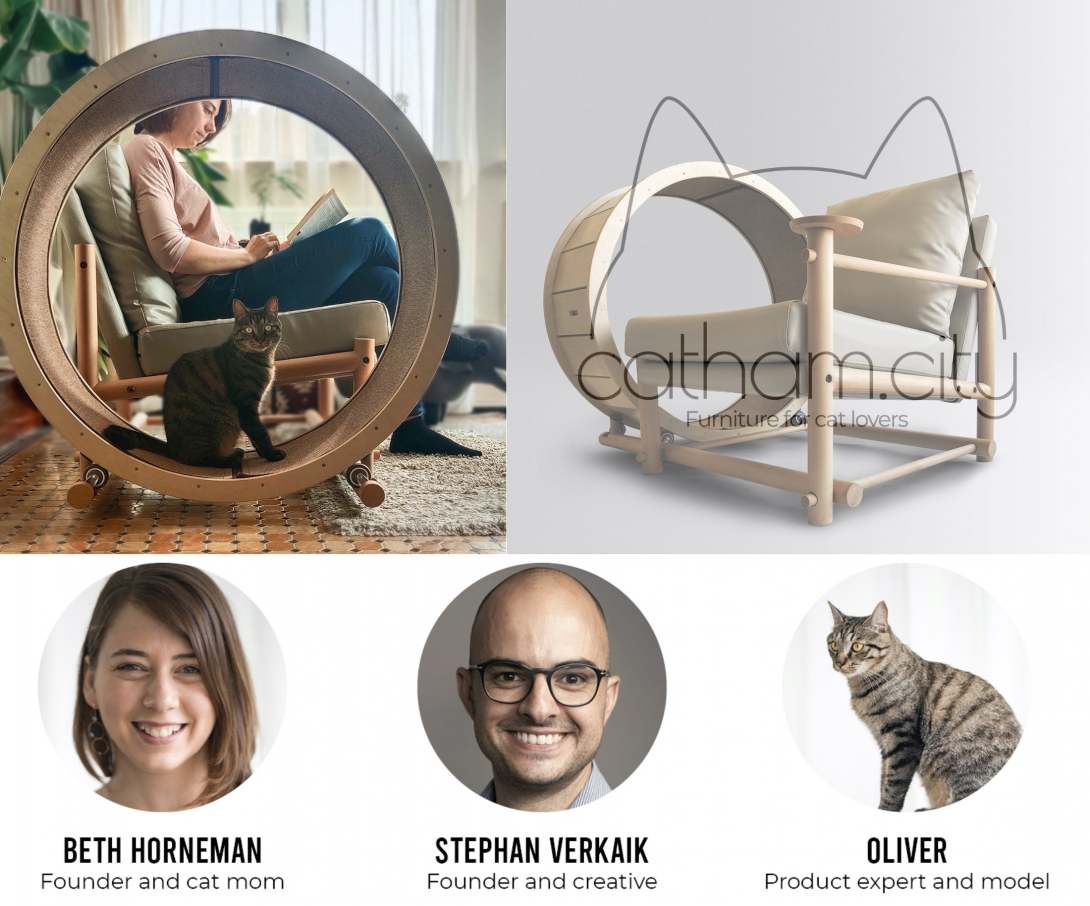 "The biggest benefit of the Loveseat is the healthy time you will spend together with your cat. Your fur-baby will be encouraged to use the wheel often, because you are nearby. They'll be getting the exercise they desperately need, without wearing yourself out in the process." co-founder Beth Horneman speaks from personal experience as her cat, Oliver a 2 year-old rescue, is the star of Catham.City.
The Loveseat is beautifully designed to last for 'nine lives', as Catham.City is committed to creating an ethical and sustainable brand. Products are made of high-quality materials and strive to be renewable or recycled whenever possible. With a concern for carbon footprint, the brand also focuses on sustainable transport and to ship as little 'air' as possible.
The LOVESEAT can be ordered from Tuesday, April 20 on Kickstarter, with production expected to begin in June after the fundraising campaign is successful! Follow the project on Facebook @catham.citysocial.
Beth Horneman, Co-founder, is a Pittsburgh (PA) native with 10 years of experience in market research, NPD and sourcing across a wide range of retail consumer goods. While Stephan Verkaik, Co-Founder, is a hands-on Dutch creative with more than 10 years of product development experience.