Due to the ongoing nursing shortage, many nurses noticed that travel nursing is an attractive career option. Travel nurses complete short-term assignments at healthcare facilities nationwide and abroad.
Nurses can take extended periods off between assignments — perfect for exploring new places or pursuing bucket-list vacations.
Flexibility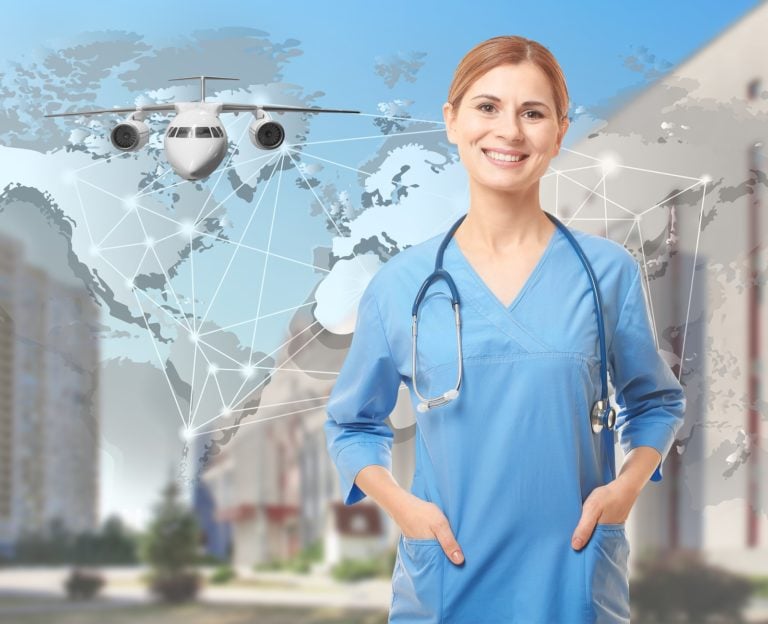 Travel nurses are hired as additional staff to fill gaps in a hospital's nursing schedule. They are temporary workers, and assignments typically last between eight and 26 weeks. This flexibility allows them to experience various healthcare environments and practices, patient populations, and work cultures. Doing so makes them more well-rounded nurses with multiple skills and experiences to offer future employers.
The ability to choose the locations of their assignments, including proximity to home, family, and friends, allows travel nurses to design a lifestyle that best fits them. A solid support network is essential because many travel nurses are away from home and family for months. Building new relationships and a small community of friends in each location is easy, but it's impossible to form deep connections that extend past each assignment.
Once an assignment ends, a travel nurse can either arrange to start their next contract immediately or take some time off. The length of breaks is up to the individual nurse and can be used for recouping, exploring new places, or pursuing further education and certifications. They can even use the break to visit family and friends in different parts of the country. This flexibility is only for some, but it is an excellent option for those who enjoy the challenge of working in diverse healthcare settings.
Time Off Between Contracts
The most obvious benefit of travel nursing employment is the opportunity to experience new locations. From busy city hospitals to rural clinics, travel nurses work in healthcare settings nationwide and often abroad. With assignments typically lasting 13 weeks, you'll have time to immerse yourself in the culture and explore the area before moving on to your next project.
Travel nurses can also take a few months off between contracts if desired. While it isn't typical to work back-to-back, many experienced travel nurses take the extra time off between contract periods to see their family and friends, visit other parts of the country, or even pursue their interests.
In addition to the flexible schedule, travel nurses are offered a complete benefits package that includes medical, dental, and vision insurance; life and accidental death and dismemberment insurance; 401(K); travel reimbursements; and tuition discounts for select universities. Unlike staff nurses, travel nurses do not earn PTO and are free to leave their assignment early at any time if they decide to stay longer than expected.
However, if you do leave your assignment early, it's important to remember that you are not paid through the end of your contract. It is also not common for hospitals to extend a travel nurse's contract early, so it can be beneficial to plan your leave accordingly.
Travel Opportunities
Travel nursing can be a perfect fit if your daily routine gets old. Every new assignment is a chance to experience a new place and lifestyle. And if you're interested in a long-term travel nursing lifestyle, it's easy to find contract opportunities close to home or visit family between assignments.
Travel nurses also gain experience in a variety of medical facilities. This allows them to expand their skills and broaden their professional horizons, which wouldn't be possible by staying at the same hospital for an entire career. From top research hospitals to rural community centers, you'll be exposed to many new experiences.
Plus, many travel nurse agencies like Onward Healthcare offer free housing for their employees. This means you don't have to worry about finding your place in a new city or paying for a furnished apartment while on assignment. Depending on your state, you may also take advantage of tax deductions for work-related expenses.
As a travel nurse, you'll get to sample different areas of the country and even experience international travel if that interests you. And as a bonus, you'll have more options when choosing your permanent location and starting a family.
Work-Life Balance
As a travel nurse, you can work in many different environments. This gives you a lot of variety in the types of people you meet and the locations you visit, which can help you maintain a healthy work-life balance.
When you're at your assignment, schedule in time to enjoy the local culture and sights. This can be as simple as catching a concert or going to a local festival. You can also try new restaurants or explore a city's hiking trails or museums. The more you engage in the community, the more energized you'll feel when returning to your travel nursing job.
Another critical aspect of maintaining a good work-life balance is setting boundaries. This is especially true if you're traveling with family members. Be sure to talk about your travel assignments with those joining you on the journey and establish boundaries about overlapping work hours, responsibilities, or even conversations with patients.
You can also find out about the local community by asking your coworkers for recommendations for fun things to do. Or, search online for something to do in the area of your assignment and see if you can fit it into your off-hours. For example, if your work is near a mountain range that offers ski and snowboarding opportunities, ask your employer if they'll cover your lift tickets or offer a discount for you to take advantage of them. You could also look into a local gym to try your hand at some exercise. Studies have shown that exercise can relieve stress and help with depression, so it's a win-win.