What could be more magical than enjoying a grand and delicious breakfast in the company of Disney Princesses at the Auberge de Cendrillon ?
Start your day the fairy-tale way by feasting on a selection of delightful dishes fresh from Cinderella's royal kitchen.
Served in a setting fit for royalty, guests can experience a special and personalized exchange with our beloved Disney Princesses as they wish diners a magical good morning.
The fairy tale breakfast features both an Adult and Children's Menu, serving sweet and savory dishes to satisfy princes and princesses of all ages, making it the best way to fuel up for a busy fun-filled day! See the enchanting selection below:
Adults :
– Scrambled eggs, veal and chicken sausages, savory Mickey waffles, pan-fried vegetables, pastries, bread, an assortment of five sweet and savory verrines, as well as the hot and cold drinks of their choice.
Little ones :
– Scrambled eggs, veal and chicken sausages, savory Mickey waffles, an assortment of three verrines (yoghurt, diced fresh fruit, fruit purée), cereal and a variety of hot and cold drinks.
Preparing all these tasty dishes wouldn't be possible without the help of Cinderella's Fairy Godmother!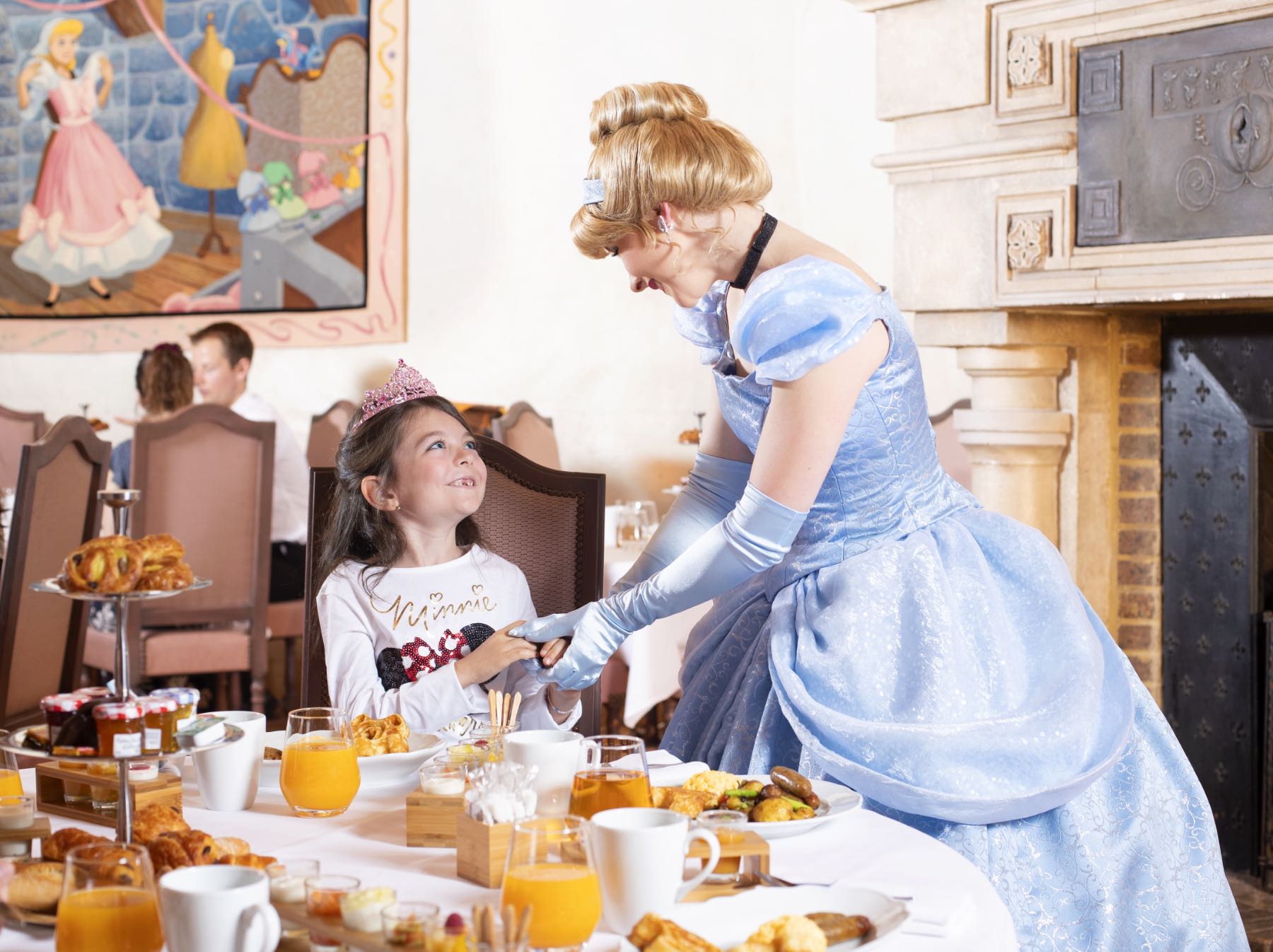 Due to its popularity and Auberge de Cendrillon being the only table-service breakfast in the parks, it is recommended that your customers book this Character Breakfasts in advance. The experience is bookable at the concierge service of the Disney hotel or Disney Nature resort in which they stay, in City hall, in Studio service or by phone at 01 60 30 40 50. Booking is also possible online as part of a package.
Below, all our other added extras currently online on Disney website:
Extras
Details
Pricing
Buffalo Bill's Wild West Show… with Mickey and Friends
Live animals, cowboy stunts and a stunning backdrop
This interactive dinner show will have you on the edge of your seats with live animals, cowboy stunts and a stunning backdrop!
Adults from £49
Children from £20
Character Breakfast
Fuel up for a fun-filled day!
Be prepared for special company with your breakfast as Mickey and the gang join you for a bite.
Adults from £35
Children from £31
Lunch with Disney Characters
Don't let the fun stop…
?just because your tummy's rumbling – share your mealtimes with your favourite Disney characters at Inventions in the Disneyland Hotel.
Adults from £61
Children from £35
PanoraMagique Benefit
Save 10% on PanoraMagique (offer ends 31 December 2019)
Get 10% off your PanoraMagique tickets and enjoy an exhilarating sky-high experience aboard the captive balloon in Disney Village. Plus we'll throw in a postcard for free.
Adults from £10.80
Children from £5.40