Denim is a cotton fabric with a sturdy twill weave and characteristic diagonal ribbing. It is used in blue jeans and other clothing.
Originally, denim was used as workwear. However, it made its way into fashion in 1873 when two Americans – Levi Strauss and Jacob Davis, patented blue jeans.
What is Denim?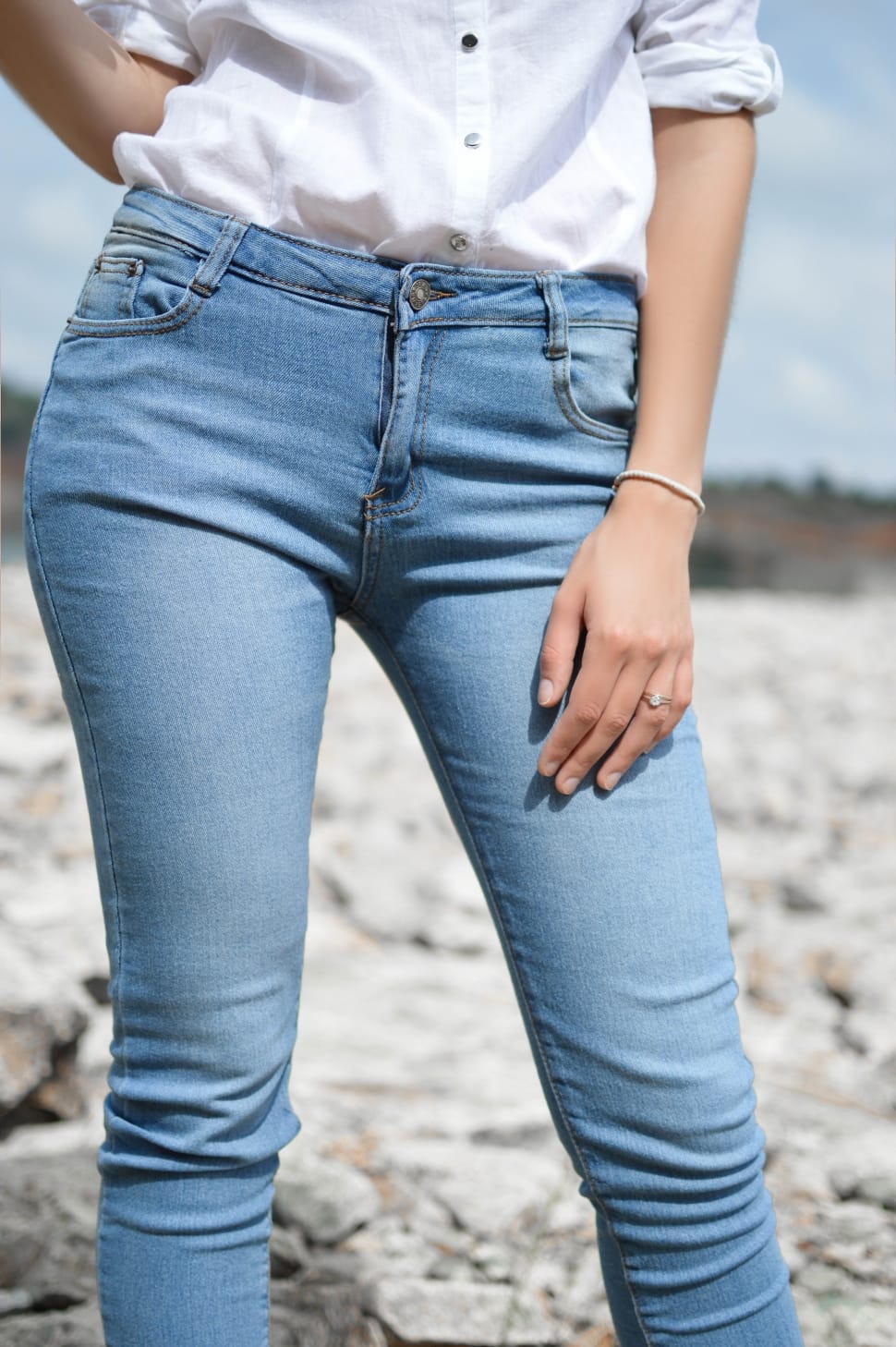 Denim is a fabric that's commonly found in jeans. It's also a versatile fabric that can be used for various clothing, accessories, and furniture.
It's made from cotton and is woven into a twill weave design, which makes it thick and durable. In addition, it's often blended with polyester to prevent wrinkles and shrinkage when washing.
The twill weaving technique creates the diagonal ribbing in denim that we see when looking at it. It's called a 3×1 right-hand twill, which means that the warp threads run from right to left on the face of the fabric.
Denim fabric is often dyed with indigo, giving it its distinctive blue color. The warp yarns are dyed indigo before being woven into the fabric, while the weft yarns are usually left white.
How is Denim Made?
Denim is one of the most popular fabrics in fashion history. It's a versatile and ubiquitous material found in everything from jeans to backpacks to hats.
The fabric has a unique story, spanning multiple countries and various game-changing moments. Its origins are attributed to Levi Strauss, a cloth merchant who created it in the 1850s to make tents and wagon covers.
To make denim, cotton fibers are woven into yarns. This process is usually done on a shuttle loom or a flatbed loom.
This way, cotton warp and filling yarns are woven into a tight weave called a twill. The filling yarns are inserted at 90-degree angles to the warp yarns to form an interlaced pattern of diagonal lines that makes up the fabric.
The denim is dyed with indigo, giving it its blue color. It can also be shown in other colors through sulfur dying and tinting.
What is the Difference Between Selvedge and Non-Selvedge Denim?
Selvedge denim refers to a specific type of fabric made by looping weft threads back at the end of each row on a shuttle loom. This means that the edges of your jeans don't fray as they do with non-selvage denim.
However, the hem is more expensive than non-selvage because it requires more time and cares to create. It's also more challenging to find since only a few factories still use shuttle looms.
For a long time, Japanese mills held a monopoly on producing high-quality hem, but as demand for selvage denim has grown, so has the number of companies in America that make it. American brands are starting to produce selvage jeans faster than a few years ago, with the help of new technologies that allow for less waste.
What is the Difference Between Dark and Light Denim?
Denim is a staple in most closets and an affordable fabric that can be styled casually and dressily. The key to selecting the fitting denim for you is choosing a pair that complements your body type and fits well with your color palette.
Dark washes are more dressy and suited to people with darker palettes. These indigo blues are often called the dressiest shades of jeans and are best matched with cooler skin tones and hair colors.
The color of your skin, hair and eyes should be considered when selecting a wash. Lighter shades of denim tend to draw attention to your body parts, while dark jeans create a slimming effect.
If you're wondering what light wash denim is, it's a lighter version of the soft denim fabric. This can be done with a chemical dye but is also achieved by washing the denim fabric.
What is the Difference Between Straight and Cropped Jeans?
A pair of straight jeans are a classic style of denim worn by men and women alike. They were first created in the 1800s to provide comfort and practicality for workers, and they have since become a staple clothing item that has never gone out of fashion.
These jeans are a perfect fit for any body shape, and they're also available in a high-waisted option that flattens the tummy and helps to shape the hips. They're accessible to style and can be dressed up or down depending on the occasion.
Cropped jeans are a popular summer style that's flattering for both petite and tall women, and they come in a wide range of shapes. For a casual look, wear them with a T-shirt and sneakers or a blazer and heels for a night out.
When shopping for cropped jeans, getting the correct hem length is essential. The best-cropped jeans hit just below the ankle or a couple of inches above it, a proportion that's flattering on shorter and taller legs.